Are you a fan of classic rock music and vintage fashion? Did you see the Rolling Stones, AC/DC or one of the many fabulous rock bands of the 70's, in person? Even if you didn't, you might want to consider adding some women's vintage rock band t-shirts to your wardrobe.
Not only are these shirts comfortable and versatile, but they also showcase your love for iconic bands and artists from the past. In this article, we'll explore the appeal of vintage rock band t-shirts for women, the history of rock band merchandising, and some tips for wearing and buying vintage tees online.
Why Women Love Vintage Rock Band T-Shirts
Women's vintage rock band t-shirts are popular for many reasons. First, they offer a nostalgic and authentic look that reflects the music and culture of previous eras. Whether you prefer the psychedelic vibes of the 60s, the rebellious spirit of the 70s, or the glam metal of the 80s, there's a vintage rock band t-shirt that can match your taste and personality.
Second, vintage t-shirts can be paired with almost anything, from jeans and shorts to skirts and leggings. You can dress them up or down, depending on the occasion and your mood.
Third, they can be a conversation starter or a statement piece that expresses your individuality and passion. By wearing a vintage rock band t-shirt, you show that you appreciate the artistry, attitude, and legacy of some of the greatest musicians in history.
The History of Rock Band Merchandising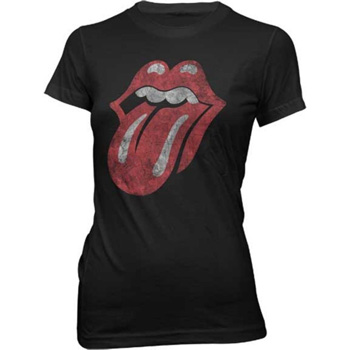 Rock band merchandising has a long and fascinating history that dates back to the 1960s. Initially, most bands didn't have official merchandise, and fans had to make their own t-shirts, buttons, and posters.
However, as the music industry grew and the popularity of rock and roll soared, record labels and promoters realized the potential of selling band merchandise to fans.Leave it to Mick Jagger's business mind to launch the first official rock band t-shirt. It is believed to be the Rolling Stones' "Tongue and Lips" design, which debuted in 1971 and became an instant icon.
Since then, many other bands and artists have created memorable and collectible rock t-shirt designs, such as Pink Floyd's "Dark Side of the Moon," Led Zeppelin's "Swan Song," and Guns N' Roses' "Appetite for Destruction."
Tips for Wearing and Buying Women's Vintage Band T-Shirts
The good news is that you can wear your vintage concert shirts nearly anywhere. If you want to wear and buy women's vintage rock band t-shirts, here are some tips to keep in mind:
Look for authentic and legally licensed music t-shirts that look at least 20 years old and have some signs of wear and tear, such as fading, cracking, or distressing. Avoid cheap reproduction t-shirts that may not have the same quality or value. Skipping quality is a bad idea here.
Choose t-shirts that feature your favorite bands or artists, or ones that have interesting graphics, slogans, or logos. You can also mix and match different styles and eras to create a unique and eclectic look.
Consider the fit and size of the t-shirt. Check the measurements and compare them to your own body size, or try the t-shirt on if possible. Keep in mind that vintage t-shirts may shrink after washing or stretching, so handle them with care.
Pair your vintage band t-shirt with complementary items, such as leather jackets, denim vests, boots, or sneakers. Whether you choose a pair of jeans, mini skirt, or joggers, your short will look great.
You can also accessorize with vintage jewelry, sunglasses, hats, or bags. Experiment with different combinations and find your own signature style.
Care for your vintage rock band t-shirts properly by washing them in cold water, air-drying them, and storing them in a cool and dry place.
The Best Brands for Vintage-Style T-Shirts for Women
There are many great brands that offer vintage-style band t-shirts for women. Here are some options you might consider:
Daydreamer LA - known for its premium rock and roll t-shirts that are both vintage-inspired and comfortable.Daydreamer is a Los Angeles-based brand that creates vintage-inspired t-shirts with a focus on music. Their t-shirts feature bands like The Rolling Stones, Led Zeppelin, and Queen.
Recycled Karma - offers unique and stylish band t-shirts that are perfect for fans of classic rock.
Chaser - offers a range of vintage-style band t-shirts that are both stylish and comfortable. Chaser Brand is another brand that specializes in vintage-style band t-shirts for women. Their t-shirts feature a range of bands, from classic rock bands like Aerosmith and The Doors to modern bands like The Black Keys and Vampire Weekend.
These are just a few examples, and Rocker Rags carries all three. We strive to provide only the best quality vintage-style band t-shirts for women.
If you enjoyed this article, you may also like: