Posted by Lando on 3rd Jun 2023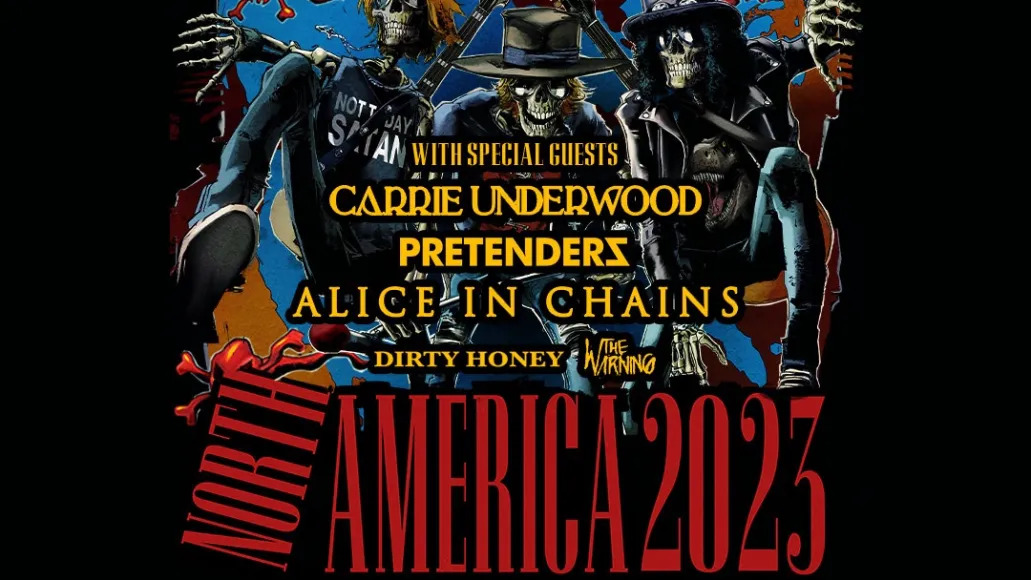 Classic rockers Guns N' Roses have announced a North American tour for later this year, and they're bringing along both Alice in Chains and The Pretenders.
I have to say, when I first heard that these bands were going to be performing on GNR's upcoming tour, I was a bit surprised. Although less so with Alice in Chains. I'll explain my line of thinking here.
I'll admit that both Alice in Chains and The Pretenders are now considered classic rock, much in the same way that Guns N' Roses are. However, if you look back at these bands' heydays, they're all from completely separate and often disputing genres. Alice in Chains were part of the Big 4 of the alternative rock/Seattle grunge sound, from the early 1990s. (The others being Nirvana, Pearl Jam and Soundgarden). While all of these bands were influenced by the hard rock sounds of the 1970s and 1980s, they were also, in their flannel and ripped jeans, seen as the complete antithesis of hair metal, with a more punk inspired garage sound and look. While many may argue that GNR were certainly superior and even separate from their hair metal contemporaries (i.e. Motley Crue and Poison), they still often get categorized as part of that genre of rock. However, upon thinking about it, in the early days, Alice in Chains did open for both Van Halen and Metallica, so it's not really too far fetched at all to think of them performing on the GNR tour.
The band that really seems like an interesting addition is The Pretenders. This band was really considered one of the pioneering groups in both the punk and new wave genres of the late 1970s-mid 1980s and whose sound didn't really mix and mingle with the hard rock bands of the time (i.e. RATT, Quiet Riot and Motley Crue). Sure, they all had hits that crossed over into the Top 40, and The Pretenders' Chrissie Hynde is a guitarist with a complete rocker edge whose band had a much more of a rock oriented sound than their new wave contemporaries like Depeche Mode or New Order. But when you think of some of the greatest bands and albums of the new wave era, The Pretenders are always on that list. In addition, they're still played much more on classic alternative radio than classic rock radio. But times change, genre separation dissipates and classic rock now encompasses everything from soft rock (like America) to grunge (i.e. Nirvana).
Carrie Underwood is scheduled to perform on the GNR tour as well. I can't say with certainty that it's a good fit, as I don't really listen to her music. But I suppose if GNR feel she works well with their audience, who am I to argue.
Here are the list of confirmed dates for Guns N' Roses' 2023 North American tour.
Aug. 5 – Moncton, NB @ Medavie Blue Cross Stadium with Carrie Underwood
Aug. 8 – Montreal, QC @ Parc Jean Drapeau with Carrie Underwood
Aug. 11 – Hershey, PA @ Hersheypark Stadium with The Pretenders
Aug. 15 – East Rutherford, NJ @ MetLife Stadium with The Pretenders
Aug. 18 – Pittsburgh, PA @ PNC Park with The Pretenders
Aug. 21 – Boston, MA @ Fenway Park with The Pretenders
Aug. 24 – Chicago, IL @ Wrigley Field with The Pretenders
Aug. 26 – Nashville, TN @ GEODIS Park with Carrie Underwood
Aug. 29 – Charlotte, NC @ Spectrum Center with Dirty Honey
Sept. 1 – Saratoga Springs, NY @ Saratoga Performing Arts Center with Dirty Honey
Sept. 3 – Toronto, ON @ Rogers Centre with The Pretenders
Sept. 6 – Lexington, KY @ Rupp Arena with Dirty Honey
Sept. 9 – St. Louis, MO @ Busch Stadium with The Pretenders
Sept. 12 – Knoxville, TN @ Thompson-Boling Arena with The Warning
Sept. 15 – Hollywood, FL @ Hard Rock Live with The Warning
Sept. 17 – Atlanta, GA @ Midtown Music Festival
Sept. 20 – Biloxi, MS @ Mississippi Coast Coliseum with Dirty Honey
Sept. 23 – Kansas City, MO @ Kauffman Stadium with Alice in Chains
Sept. 26 – San Antonio, TX @ Alamodome with Alice in Chains
Sept. 28 – Houston, TX @ Minute Maid Park with Alice in Chains
Oct. 1 – San Diego, CA @ Snapdragon Stadium with Alice in Chains
Oct. 6 - Indio, CA @ Power Trip Festival
Oct. 8 – Sacramento, CA @ Aftershock Festival
Oct. 11 – Phoenix, AZ @ Chase Field with Alice in Chains
Oct. 14 – Seattle, WA @ Climate Pledge Arena (support act TBD)
Oct. 16 – Vancouver, BC @ BC Place with Alice in Chains