Posted by Lando on 17th Jul 2020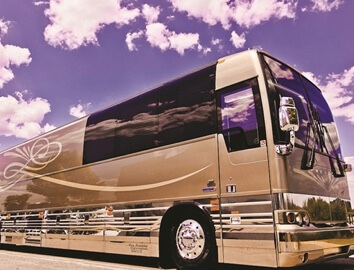 While the whole world is currently dealing with the Covid-19 pandemic, many of us, especially those of us that are United States based, still have a desire for a summer excursion. Well, the appeal may be gone, with all of the recent re-closures of restaurants and what not occurring across the US, but the wish isn't necessarily, and now you can travel like rock star royalty, and not let a little thing like restaurant closures and lack of hotel amenities stop you.
Enter Senators Coaches. What is Senators Coaches you might be asking? Well, you know those over the top, yet gorgeous, buses you see behind or parked off to the side of the stage at a concert or festival? Those are Senators Coaches. They're the money is no object tour buses our favorite music stars travel in, to go from venue to venue. And due to the fact that COVID-19 has ceased pretty much any and all live performances, a tour bus from Senators Coaches is available to rent. In fact, I believe they've got 85 of them to rent, now that bands like Rolling Stones and Pearl Jam cancelled their reservations, since they're not going to be performing live anytime soon.
The cost isn't inexpensive at $2,500 per day. However, if you've ever dreamed, like I have, of hitting the open road in a fully decked out tour bus, this may be the best opportunity you're going to ever have. And when I say luxury, we're talking no expense spared - between the accommodations to all of the electronic gizmos. Plus, they've got multiple layouts of coaches depending on your needs, so you should give them a call, before the COVID-19 pandemic is a thing of the past and life returns to some degree of pre-coronavirus normalcy.
Check out the Senators Coaches website here, and if you do decide to take them up on a rental, please share your experiences, in the comment sections.