Posted by Lando on 6th Oct 2021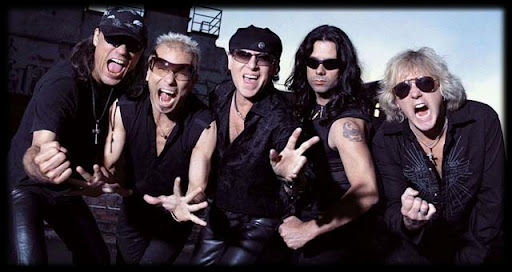 Scorpions did not rest or relax during the pandemic's lockdown. In fact, it was quite the opposite, for the legendary classic German rock band. They're getting set to both release a new full length album and support that with a world tour.
Set for release on Feburary 11, Scorpions' new album is titled Rock Believer. The lead single, Peacemaker, will be available on October 21. This will be the first Scorpions album to feature Motorhead's Mikkey Dee, on drums, who joined Scorpions in 2016, after Motorhead disbanded, due to the passing of Lemmy Kilmister.
To support Rock Believer, Scorpions are embarking on a world tour (all dates below), with a 9-date residency at the Zappos Theater, in Las Vegas. Some of the European dates will have Mammoth WVH (Eddie Van Halen's son, Wolfgang's band.), as the opening act.
See all of our Scorpions vintage fashion and music lifestyle shirts here.
When talking about the recording of Rock Believer, Scorpions' lead singer, Klaus Meine said "We recorded the album as a band live in one room, like we did in the '80s."
And when talking about the tour, lead guitarist, Rudolf Schenker, had this to say: "The prospect of rocking with my bandmates in front of hundreds of thousands of fans next year, and presenting them [with] our new album, is already giving me goose bumps This album and the upcoming world tour will also be something very special in our career."
Here are all of the confirmed dates for the Scorpions' upcoming 2022 tour:
3/26: Zappos Theater – Las Vegas, NV
3/30: Zappos Theater – Las Vegas, NV
4/01: Zappos Theater – Las Vegas, NV
4/03: Zappos Theater – Las Vegas, NV
4/07: Zappos Theater – Las Vegas, NV
4/09: Zappos Theater – Las Vegas, NV
4/12: Zappos Theater – Las Vegas, NV
4/14: Zappos Theater – Las Vegas, NV
4/16: Zappos Theater – Las Vegas, NV
5/10: Altice Arena – Lisbon, Portugal
5/13: Zenith Toulouse Metropole – Toulouse, France
5/15: Zenith De Lille – Lille, France
5/17: Accorhotels Arena – Paris, France
5/21: Hallenstadion – Zurich, Switzerland
5/23: Arena Di Verona – Verona, Italy
5/26: O2 Arena – Prague, Czech Republic
5/28: Tauron Arena – Kraków, Poland
5/30: Laszlo Papp Sports Arena – Budapest, Hungary
5/03: Rockfest – Helsinki, Finland
6/08: Schleyerhalle – Stuttgart, Germany (with Mammoth WVH)
6/10: Olympiahalle – Munich, Germany (with Mammoth WVH)
6/12: Festhalle – Frankfurt, Germany (with Mammoth WVH)
6/15: Mercedes-Benz Arena – Berlin, Germany (with Mammoth WVH)
6/17: Zag Arena – Hannover, Germany (with Mammoth WVH)
6/19: Westfalenhalle – Dortmund, Germany (with Mammoth WVH)
6/23: Hellfest – Clisson, France
6/25: Rock Imperium Festival – Cartagena, Spain
6/28: Palais Nikaia – Nice, France
6/30: Le Galaxie – Amneville, France
7/02: Zenith D'Auvergne – Clermont-Ferrand, France