Posted by Lando on 10th Nov 2022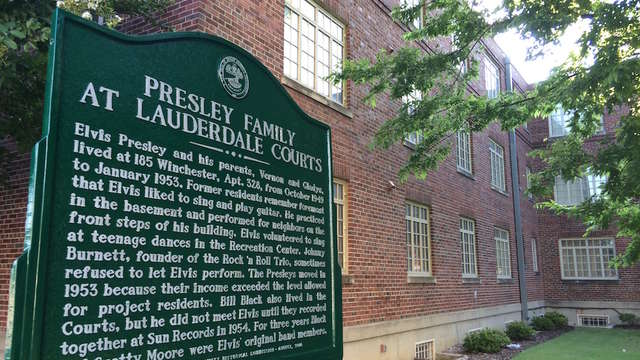 The next time you're visiting Memphis, Tennessee and want to stay somewhere memorable and special - skip the hotels and Air BnBs - because now you can stay in Elvis Presley's childhood apartment.
Available for $250 per night and only available to reserve via the management company of the apartment, you can literally sleep in Elvis' room.
A little history on the place: The apartment complex, known as 328 Lauderdale Courts, was one of the first public housing projects to be built in the US. The Presley family moved there in 1948 after relocating from Mississippi, and it was there that Elvis was introduced to Memphis' bustling music scene.
The 2 bedroom apartment is a real time capsule. The home is decked out in 1950s style décor and features a spacious living room complete with, of course, classic Elvis movies. In the kitchen, you'll find an authentic 1950s era refrigerator along with the recipe for Elvis' favorite peanut butter, banana and jelly sandwich.
The sleeping quarters = Elvis' old room and features a wall adorned with lipstick marks and sign that says "Kisses Only Please No Writing." Continuing to pay homage to The King, on top of his bed, guests will find an acoustic guitar.
The rest of the home is adorned with classic Presley family, and particularly Elvis, memorabilia including old family photos, his Humes High School yearbook and hair pomade - so if you feel the need to style your do like The King, you'll have the right holding product.
Check out our Elvis Presley vintage inspired fashion t-shirts here.

I gotta say that if you're a real Elvis fan, this is an experience that can't be matched anywhere else - to live like Elvis, in his hometown, in his home! And I don't think Graceland will ever be allowing these kinds of opportunities.
We'd love to hear from you if you decide to embark on this adventure and welcome you to please share your experience in the comments section.
Thank ya very much.