Posted by Lando on 7th Nov 2019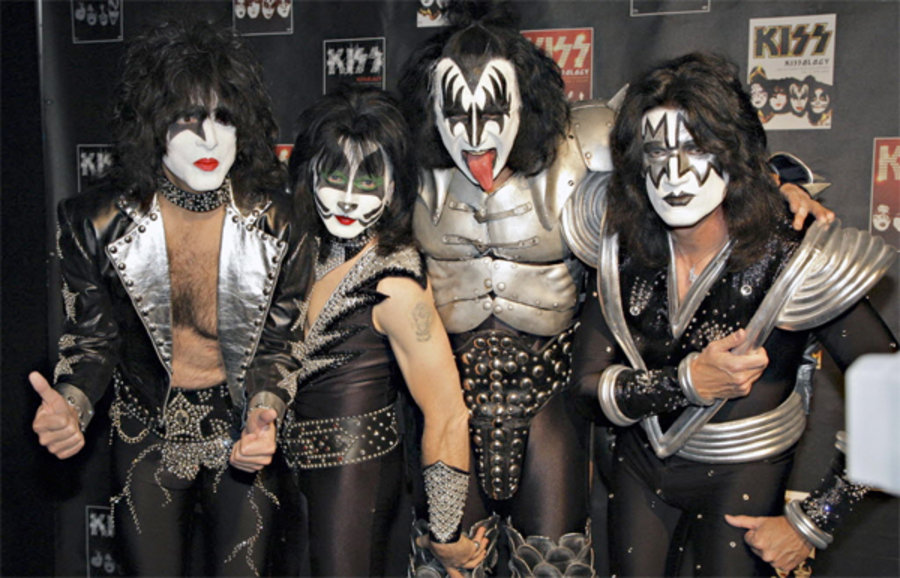 KISS fans take note!
The band has added an additional 75 shows, in 2020, to their "End of the Road" tour. In addition, they have also announced the city and date, of what they are calling their very last concert, as KISS.
These newly confirmed dates will find the classic hard rock band touring North America, South America, Europe, and back to North America. These new concerts will begin on February 1, 2020, in Manchester, New Hampshire.
The very final show is scheduled for July 17, 2021, in New York City, however, the venue has yet to be announced. In addition, no announcement has been made if the original lineup, of KISS, will appear at this final show. The original lineup consisting of Paul Stanley, Gene Simmons, Ace Frehley and Peter Criss. Currently, KISS is made up of Paul Stanley, Gene Simmons, Tommy Thayer and Eric Singer. Once the venue is officially confirmed, I will update this article to let you know. The same with the band lineup, if there are any changes.
Check out all of our KISS merchandise and fashion tees here
In the meantime, here is a list of all of the new confirmed dates, for KISS' "End of the Road" tour:
2/01 – Manchester, NH
2/04 – Allentown, PA
2/05 – Buffalo, NY
2/07 – Charlottesville, VA
2/08 – Greensboro, NC
2/11 – Columbia, SC
2/13 – Lexington, KY
2/15 – Peoria, IL
2/16 – Fort Wayne, IN
2/18 – Springfield, MO
2/19 – Wichita, KS
2/21 – Sioux City, IA
2/22 – Grand Forks, ND
2/24 – St. Paul, MN
2/25 – Lincoln, NE
2/29 – Laughlin, NV
3/02 – Bakersfield, CA
3/04 – Los Angeles, CA (makeup date for postponed 9/20/19 show)
3/06 – Oakland, CA (makeup date for postponed 9/16/19 show)
3/09 – El Paso, TX
3/10 – Lubbock, TX
3/12 – Tulsa, OK
3/14 – Lafayette, LA
3/15 – Biloxi, MS
4/24 – San Salvador, El Salvador
4/28 – San Jose, Costa Rica
4/30 – Bogata, Columbia
5/02 – Lima, Peru
5/05 – Santiago, Chile
5/07 – Asuncion, Paraguay
5/09 – Buenos Aires, Argentina
5/12 – Porto Alegro, Brazil
5/14 – Curitiba, Brazil
5/16 – Sao Paulo, Brazil
5/19 – Uberlandia, Brazil
6/09 – Paris, France
6/12 – Derby, U.K. (previously announced, Download Festival)
6/14 – Dortmund, Germany
6/15 – Hamburg, Germany
6/18 – Copenhagen, Denmark
6/20 – Sandnes, Norway
6/23 – Gothenburg, Sweden
6/25 – Stockholm, Sweden
6/27 – Helsinki, Finland
6/29 – Kaunas, Lithuania
7/01 – Prague, Czech Republic
7/04 – Barcelona, Spain
7/05 – Madrid, Spain
7/07 – Lisbon, Portugal
7/10 – Frankfurt, Germany
7/11 – Stuttgart, Germany
7/13 – Verona, Italy
7/15 – Gilwice, Poland
7/16 – Budapest, Hungary
7/18 – Sofia, Bulgaria
7/21 – Geneva, Switzerland
7/25 – Johannesburg, South Africa
8/28 – Mansfield, MA
8/29 – Hartford, CT
8/31 – Canandaigua, NY
9/01 – Bangor, ME
9/04 – Atlantic City, NJ
9/05 – Burgettstown, PA
9/08 – Atlanta, GA
9/09 – Raleigh, NC
9/11 – Clarkston, MI
9/13 – Tinley Park, IL
9/14 – Dayton, OH
9/15 – Milwaukee, WI
9/19 – George, WA
9/20 – Ridgefield, WA
9/22 – Boise, ID
9/24 – Salt Lake City, UT
9/26 – San Bernardino, CA
9/27 – Chula Vista, CA
9/29 – Phoenix, AZ
10/01 – Austin. TX
10/03 – Ft. Worth. TX
10/30-11/04: Kiss Kruise X
Kiss 'End of the Road' 2021 Date
7/17 – New York, NY