Posted by Lando on 20th Mar 2023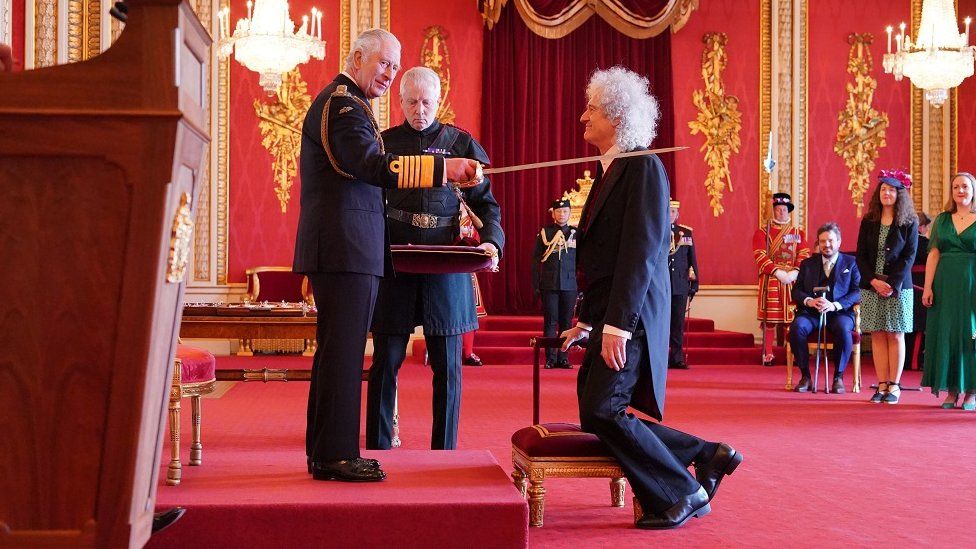 From rock and roll royalty to being officially recognized by royalty, Queen guitarist Brian May has led quite a life of achievement.
This past week, March 14, 2023, King Charles officially knighted Brian May for both his contributions to music along with as all of his charitable endeavors.
The official announcement about Brian May receiving this honor was released in late 2022, to which the guitarist replied "This is a kind of license, a kind of commission to carry on doing what I'm doing. And it gives me a bit more power to my elbow. So I'm very happy about that."
Being knighted by King Charles is quite an honor, especially in light of the relationship that the two gentlemen share. Brian said about King Charles "We've had various conversations over the years and I like to feel that we have a kind of friendship." He went on to say that he believes the 2 gentlemen have "quite a lot in common." "I have enormous respect for him. I think he's been through some very difficult times and always behaved with incredible grace and dignity."
This isn't the first honor that Brian May has received from Britain. In 2005, he was honored as a CBE, which stands for Commander of the Most Excellent Order of the British Empire. His bandmate, drummer Roger Taylor, also received a similar honor, in 2020, when he was made an OBE which means Officer of the Most Excellent Order of the British Empire.
See our Queen vintage style fashion shirts here.
Now of course, it sort of goes without asking what would former lead singer Freddie Mercury think of all this acknowledgement, especially the knighthood that Brian received. Brian was asked about it, however, and he replied "Freddie would love it. I think if he had been around, he would have been honored long ago. And very rightly so."