Posted by Lando on 1st May 2018
It's an exciting time for Beatles fans. Believe it or not, this summer is the 50th anniversary of The Beatles' Yellow Submarine and to celebrate this momentous mark in history, the film is coming back in theatres. It's set to debut on July 8, but the list of theatres that will display the film is still unknown. More details are highly anticipated by devoted fans.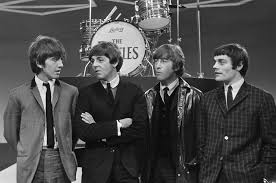 To refresh fans' memory, the original animated film features the story of Captain Fred who leads an adventurous mission on his Yellow Submarine to save the undersea musical town of Pepperlandia, including its protectors, Sgt Peppers Lonely Hearts Club Band. As the villainous Blue Meanies try to take over Pepperlandia, Captain Fred recruits The Beatles for help to defeat the music hating enemies. The animated film is full of psychedelic Pop-Art that stays true to its time and takes you on an entertaining, visual journey. The Beatles do not voice themselves in their animated characters, as actors were hired to portray them, but the soundtrack of the film makes The Beatles' musical talent the star of the show. The film's soundtrack includes hit songs like "Sgt. Peppers Lonely Hearts Club Band", "With A Little Help From My Friends", "Hey Bulldog", and "All You Need is Love."
If you're a concerned fan who's worried about filmmakers butchering this cultural masterpiece from its 1968 original, have no fear. The film will be the same in terms of content and integrity, but the difference will be in quality. Filmmakers have made sure that this a restoration, not a recreation. The film's new version is said to have been restored in 4K digital resolution, and the original, hand-drawn artwork was not altered by any digital software. Instead, the film's photochemical elements were restored by hand, frame-by-frame.
This 1968 film revival is not the only adaptation for the hit classic Yellow Submarine. The Beatles' Apple Corporation announced last summer that a comic book is in the works as well. Exciting news for fans, the creation of the comic book will be led by MAD Magazine editor, Bill Morrison, and based on his other creative endeavors this comic book will hopefully not disappoint. The release date has yet to be released, but either way it is an exciting time for the band and their fans. If you're curious to know more about the return of the famous Yellow Submarine read the full article here.