Posted by Lando on 19th Mar 2014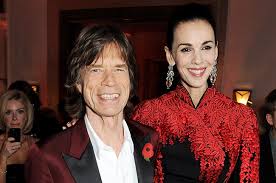 Earlier this week, on St. Patrick's Day, L'Wren Scott, longtime girlfriend of Rolling Stones' singer Mick Jagger, was found dead in her Manhattan apartment by her assistant, from what was ruled as a suicide.
As one who, in a sense, works in two different industries running Rocker Rags (those 2 industries being music and fashion), this death has hit me kind of hard. I didn't know Ms. Scott, nor do I know Mr. Jagger, however, she was inspirational to both industries.
Mick and L'Wren met back in 2001 and had been together ever since. This is longer than Mr. Jagger was with his former wives, and he was even seriously talking about settling down with Ms. Scott. In fact, he recently purchased a $10 million home in New York for the two of them. Devastated by the loss, the Rolling Stones immediately cancelled all shows on their current Australian and New Zealand tour so that Mick could be with his family during this terrible time while the funeral arrangements are being made. One of the bizarre things about Ms. Scott's suicide is that no note was left or any sort of explanation was provided to anybody as to what caused her to take her own life by hanging herself. The only reason that anybody could deduct was that even though her designs were seen on some of the most influential people including Amy Adams, Nicole Kidman, Julia Roberts and First Lady Michelle Obama, somehow Ms. Scott's fashion company was $6 million in debt. This is surprising not only because of the fact that so many celebrities favored Ms. Scott's designs and that she also did a collection with Banana Republic for this past holiday season, but that she was so closely involved with Mr. Jagger, a millionaire a few hundred times over, and her company couldn't get out from the red.
RIP Ms. L'Wren Scott. Our thoughts are with both her and Mick Jagger's family and friends at this extremely difficult time. I hope you are finding peace now.