Posted by Lando on 20th Oct 2022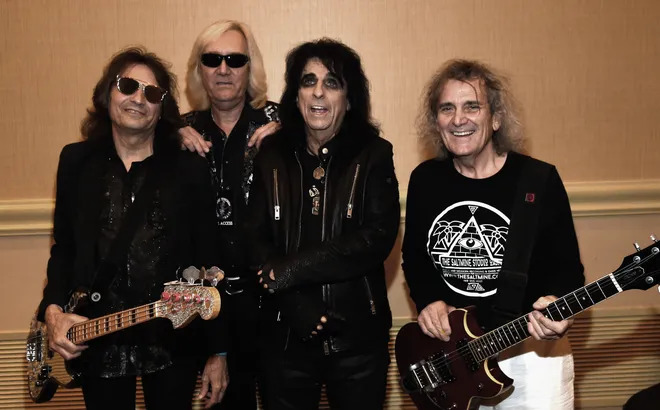 The original Alice Cooper Band are back together again and working on new music.
Although the band "broke up" in the mid-1970s, with rumors flying about relationship breakdowns, the band has actually remained quite close over the years. They've come back together many times since splitting and recorded several new albums together such as 2011's Welcome 2 My Nightmare, 2017's Paranormal and 2021's Detroit Stories. And soon, we may be able to add another album to that list.
According to Alice Cooper, "We're working pretty close right now. We wrote, like, 12 songs together for future projects."
While no official release date has been announced, the Alice Cooper Band is working with other collaborators plus members of the Alice Cooper touring band, along with legendary producer, Bob Ezrin who produced 15 Alice Cooper albums. About this, Alice said "We never know when that stuff's gonna come out if it's going to make the next album or an album after that — it's sort of like putting songs in a bank. If I have time off I'll get a call from Bob [Ezrin]: 'I've got an idea for something,' and we just start writing. It's a continuing process. They kind of take on their own life, these things do."
"A lot of times a story happens; I start reading the lyrics and realize, 'Oh, my God, this is a storyline!' I just kind of surprise myself once in awhile, because I didn't set out to make anything be a storyline. We just never stop writing, and we're just trying to write great songs and then see what fits together."
While again, it was rumored that the original Alice Cooper Band acrimoniously split up, in the mid-1970s, Alice addressed those rumors head on by saying "Our band didn't get divorced; we just separated. We hit an area after Billion Dollar Babies and School's Out, those were giant records. We did Muscle of Love - that didn't quite get there. It was Top 10, but it wasn't up there like we wanted it to be...and I felt that the band was disjointed. I thought that maybe we hit our peak." The band separated to work on other projects and when Welcome to My Nightmare became a huge success, in 1975, Alice chose to continue working on his solo career and "the band just dissipated. But we always did stay in touch with each other. There was no bad blood between us, anybody in the band. They were my best friends. I'd call Dennis up, 'Dennis, I need you to play bass on this.' 'OK, I'll be down there.' 'Neal, play drums on this,' or I'd want to write a song with them. I always like including them, one way or another."
Check out our collection of Alice Cooper rock n roll apparel here.
For those of you guys who don't want to wait for a new album and tour from the legendary shock rocker, Alice Cooper, the man, will be performing in Dallas, TX, on October 29, with the original Misfits followed by a December 3 show with Sammy Hagar and others, to support Alice Cooper's Arizona based, Solid Rock teen centers.