Posted by Lando on 21st Jan 2020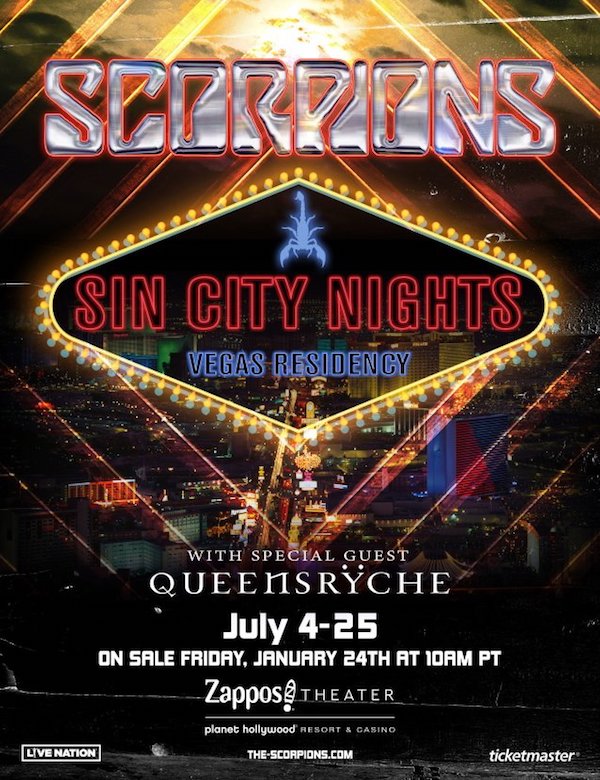 Scorpions are getting ready to rock Las Vegas, Nevada.
Starting on July 4 of this year, the classic hard rock band, from Germany, will begin "Sin City Nights," a 9-concert residency series at the Zappos Theater, located at the Planet Hollywood Resort and Casino, with an opening set by Queensryche.
Promoted by both Live Nation and Caesars Entertainment, Scorpions will perform their hits including "Rock You Like a Hurricane," "Big City Nights," "Winds of Change," "Still Loving You," among a ton of others.
Celebrating their 55th anniversary this year, Scorpions formed in Hanover, West Germany, in 1965 and were a part of the first wave of metal, with the 1972 release of their debut album, Lonesome Crew. However, it wasn't until the 1980s that Scorpions became heavy metal superstars, with the release of their hits "Rock You Like a Hurricane," "No One Like You," "Send Me an Angel," "Still Loving You," and "Wind of Change." Since their formation, the band have sold over 110 million records.
Check out all of Scorpions merchandise here.
Tickets for the "Sin City Nights" residency will go on sale on January 24, and can be purchased here.