Posted by Lando on 4th Aug 2021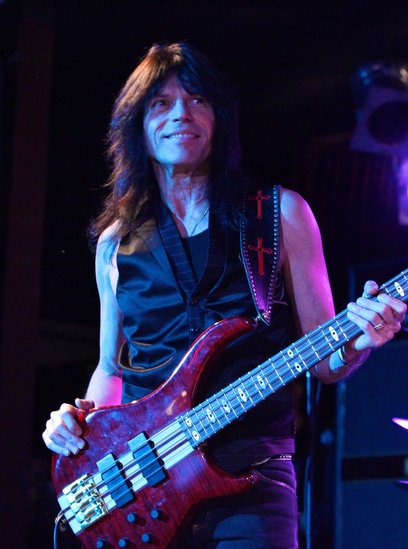 Bassist Rudy Sarzo has confirmed he's returning the classic heavy metal band, Quiet Riot, after an 18 year absence. "I am returning home, going home to Quiet Riot in the beginning of 2022, next year."
Sarzo was a member of Quiet Riot during their early 1980s heyday and played on their juggernaut release, Metal Health, along with the follow up Critical Condition. He rejoined the band in 1997 and remained with them until 2003.
Rudy says that Quiet Riot has been a part of him for 50 years, as that is when he first met guitarist Frankie Banali and became immediate friends - a friendship that remained even when Rudy wasn't part of the band. They didn't see each other as much during the latter part of the last decade, as Banali was touring while fighting pancreatic cancer, a disease that would eventually take Banali, in August 2020. The Covid-19 pandemic made it even more challenging for the 2 friends to see each other, however, they texted and stayed in contact. Rudy said "That really made it impossible for me to be in his presence. It wasn't until a couple of days before he passed away that I was able to go to his house. Regina [Frankie Banali's wife] requested it, and I spent time with him. And then, the following day, when he was taken to the hospital, Regina made it possible for me to be with Frankie for his last hours. She expressed to me that Frankie wanted me to come back to the band, that he wanted to have a founding member there in the band," So, we talked about that."
While it took some time for Rudy to heal from his good friend's passing, he has accepted the invitation. Rudy admitted "I was already traumatized by Frankie's passing, so it was a decision that I had to take a lot of time to think about it — let the mourning period [pass]. So, the time came when I was ready to accept the reality, that it's our responsibility, of us left behind, to carry on with the legacy and celebrate it. So that's when I decided. I said, 'Okay, it's time for me to come home.'"
See our Quiet Riot men's and women's band t-shirts here.
We're excited to hear what 2022 has in store for Quiet Riot as that is when Rudy will officially rejoin the band.