Posted by Lando on 9th Sep 2015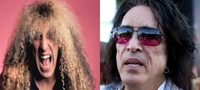 It looks like as long as there is a music business, there will be artist quarrels. The latest feud, if you will, involves KISS guitarist, singer and co-founder, Paul Stanley, and Twisted Sister's Dee Snider. Anybody who has listened to and/or seen Dee Snider interviews, knows he is not one to mince words. He has opinions, and he has no issue with letting those opinions be heard.

His latest issue is with KISS, thus the reason why there is a quarrel between Paul Stanley and Dee. I'll elaborate. Apparently, on a recent episode of the Eddie Trunk Podcast, Dee let it be known that he finds it insulting to original KISS members, Ace Frehley and Peter Criss, that their current replacements in the band have donned the original members' makeup and stage moves. Dee went on to say that he was cool when KISS replaced Ace and Peter with guys who had brought in their own makeup and characters, but to have the current guys portray the Catman and Spaceman is an insult to both Ace and Peter.
Enter Paul Stanley's rebuke to Dee's argument. Paul, by the way, isn't interested in hearing Dee's opinion. Paul responded on the Talk is Jericho Podcast that "...this guy (Dee Snider) is a wannabe, has always been a wannabe and desperately wants attention and to be taken seriously and that will never happen because he's obviously clueless to the fact that he and his whole band (Twisted Sister) are a bunch of buffoons."
While the reasoning behind having the replacement members of KISS reprise the roles of the Catman and Spaceman was purely a business decision, by KISS, everybody is entitled to their own opinions. I believe Dee's opinion on KISS does have some merit, regardless if you're a fan of his or agree with what he said them. It is a fair argument. Paul's response, while perhaps a bit critical and harsh, however, is just as fair. Again, the reasoning behind KISS deciding to have the Spaceman and Catman characters reprised was obviously one in which the members of the band believe was necessary.
This is not the first time that Dee Snider has taken issue with a band member from KISS. He recently rebuked Gene Simmons' claim that "Rock is Dead," by saying Gene Simmons "couldn't be further off the mark…Rock 'n' roll is alive and well and thriving on social media, in the streets, and in clubs and concert halls all over the world. And the bands playing it are more genuine and heartfelt than ever because they are in it for one reason: the love of rock 'n' roll."
What do you think – was Dee out of line in what he said? Was Paul in his response? Or are both guys right?