Posted by Lando on 24th Nov 2015

Last week we uploaded 3 classic album cover artwork and tour t-shirts from the progressive rock band, Rush. These shirts include:
1. Rush Hemispheres Album Cover Artwork
2. Rush Power Windows 1985-1986 Tour
Let's start with the Rush Hemispheres Album Cover Artwork: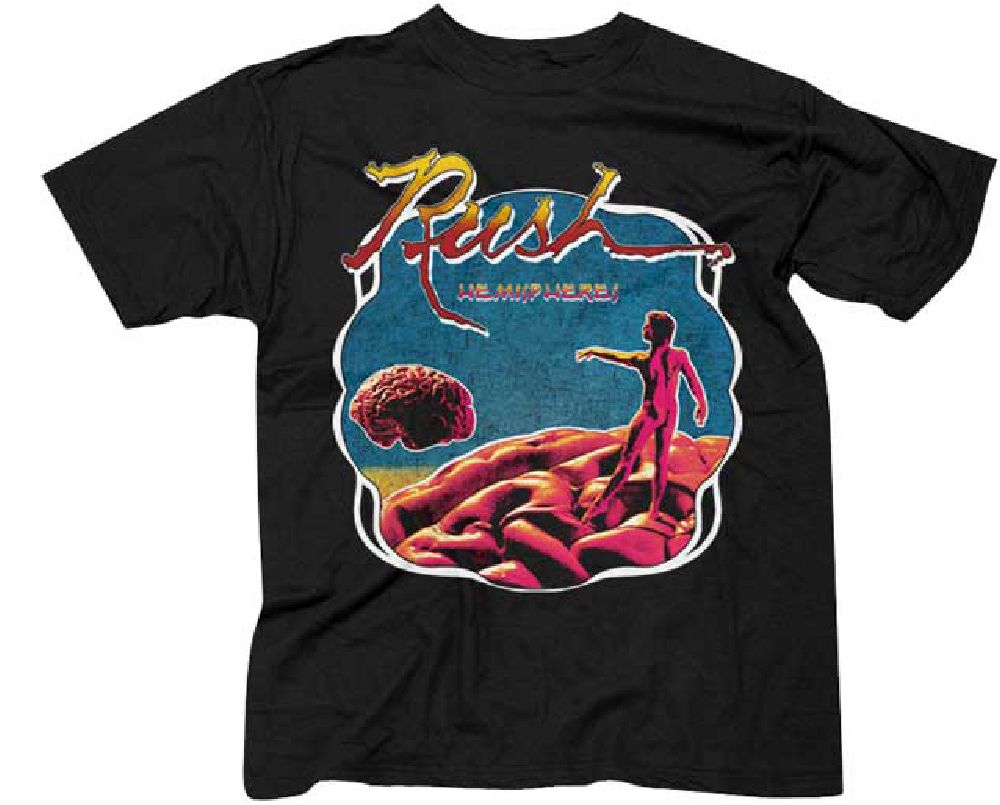 This men's vintage Rush t-shirt features a rendering of the artwork seen on the front cover of Rush's sixth studio release. Hemispheres reached store shelves in 1978 and contained lyrical and composition elements that had been featured in earlier Rush albums. The lyrics of the songs on Hemispheres, which were written by Rush's drummer, Neil Peart, continued incorporating motifs of science fiction and fantasy, a theme previously heard on the group's second album, Fly by Night. Composition wise for Hemispheres, Rush followed a song writing style, that was similar to song style on their 1976 release, 2112, of just a few songs broken down into multiple chapters. Hemispheres contains a total of only 3 songs. However, due to the complexity of writing, performing and recording in this manner, Hemispheres turned out to be Rush's last venture into this type of composing and arranging. And while the album was a success among the music critics, commercially, this album struggled a bit. In fact, it took 15 years for Hemispheres to reach Platinum status.
Earlier I mentioned that our Hemispheres album cover tee features a rendering of the original Hemispheres album cover. While this shirt is officially approved and licensed by Rush, the artwork here spotlights an image of a nude man standing on top of a human brain reaching out. Where this shirt differs from the original album cover is that on this t-shirt, the nude man is reaching out to another floating brain. On the original album cover, the man is reaching out to a separate man walking towards him.
Rush Power Windows 1985-1986 Tour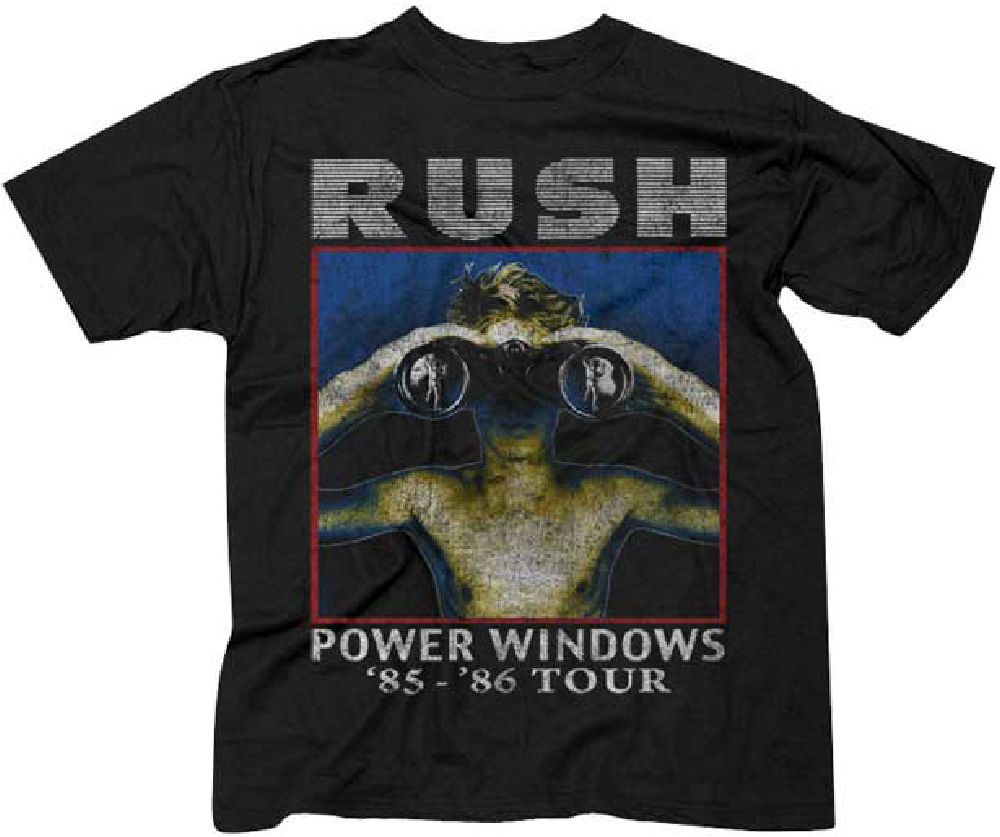 This vintage Rush concert t-shirt is from Rush's Power Windows Tour, which was performed from 1985 through 1986 to promote the group's latest album, at the time, also titled Power Windows. Power Windows was released in 1985, and was the band's first collaboration with record producer, Peter Collins, who, at the time, was recognized more as a pop music producer. He helped the band forge into a slight musical departure from their previous albums by incorporating, like many of their mid-1980s contemporaries, more synthesizers and keyboards into their songs. Rush's singer, bassist and keyboard player, Gedde Lee, always used synthesizers to some degree in Rush's music, however with Power Windows, synthesizers became more of a key instrument rather than one used to help accentuate the guitar, bass, and drum heavy songs, heard on their earlier releases. The lyrics were again written by Neil Peart, and explored themes of power manifestations suburban monotony. With hits including Big Money, Manhattan Project and Marathon, Power Windows was well received by critics and is listed at #382 in Rock Hard magazine's book, The 500 Greatest Rock & Metal Albums of All Time.
Our Power Windows concert tee spotlights the back album cover of the shirtless boy looking through binoculars. It is surrounded by a Rush logo and Power Windows '85-'86 Tour. To get that real vintage look and feel, the shirt is made from 100% black cotton with washed out distressed effects to the graphics.
Rush Roll the Bones Tour 1992 Tour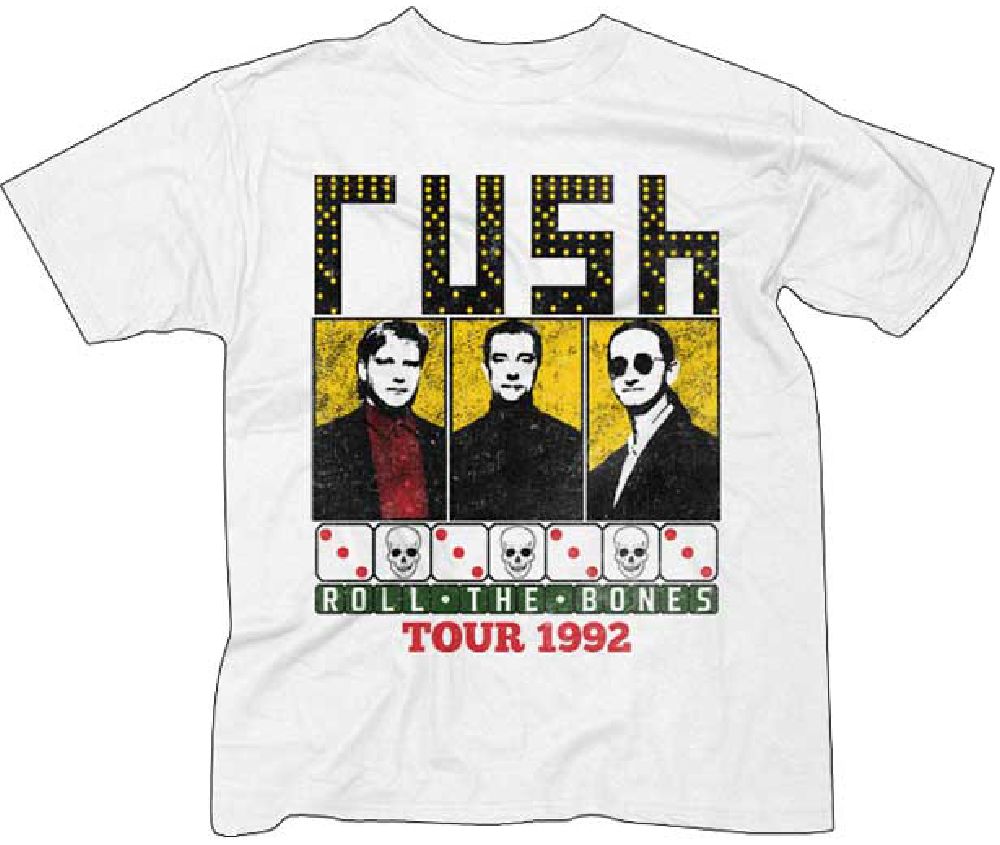 This particular Rush vintage concert t-shirt is from the band's 1992 portion of their 1991-1992 Roll the Bones Tour performed to promote their latest album, at the time, also titled Roll the Bones. This concert tour commenced on October 25, 1991 at the Copps Coliseum in Hamilton, Ontario and concluded on June 28, 1992 at the World Music Theater in Tinley Park, Illinois. I was fortunate in that I actually got to see this concert tour when Rush performed it in New York City at Madison Square Garden, in December 1991. A little back story on the Roll the Bones album: Released in 1991, Roll the Bones was produced by Rupert Hine, who had produced Rush's previous album, Presto, and became the band's first Top 5 album, in the US, since their 1981 juggernaut, Moving Pictures. Much of this success was due to heavy airplay of the singles, Dreamline and the Roll the Bones title track, on rock radio stations, during the early 1990s. The instrumental song, Where's My Thing, was nominated for a Grammy award.
Our Roll the Bones 1992 men's tee features the photograph of Rush band members Gedde Lee, Neil Peart and Alex Lifeson which was seen on the album's insert. The shirt also displays images of dice (bones is a slang word for dice) and skulls surrounded by Rush Roll the Bones Tour 1992. The shirt is created with distressed washed out effects to the graphics for a true vintage look and feel and is made from 100% white cotton.