Posted by Lando on 6th May 2022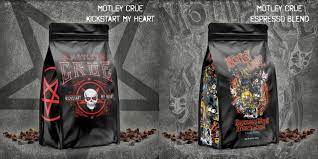 The Crue have a brew! 2 actually.
You read that right - Motley Crue has launched their own brand of coffee now available for sale. Partnering up with Brewtality Coffee, on whose website you can purchase the coffee, Motley Crue have 2 varieties currently available.
The first, Kickstart My Heart, is a dark-roast that's heavily caffeinated with a bold and rich flavor. The other is an Espresso Blend French Roast with hints of chocolate, toffee and brown sugar.
Each blend is available in a 1 pound bag costing $19.99 and is available at Brewtality Coffee. So far, the reviews have been positive. So, whether you need to wake up and Kickstart Your Heart to create Looks that Kill or Shout at the Devil, the Crue have created a brew which will definitely having you feel as if they are the new (albeit legal) Dr. Feelgood.