Posted by Lando on 19th Oct 2014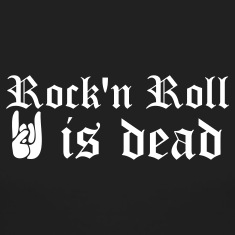 KISS' bass player, Gene Simmons, recently claimed, in an interview, that Rock is dead. In his defense, Gene was pointing more of the finger at file sharing and the current state of the music business rather than a lack of musical talent. He said, "It's very sad for new bands. My heart goes out to them. They just don't have a chance. If you play guitar, it's almost impossible...What is the next Dark Side of the Moon? Now that the record industry barely exists, they wouldn't have a chance to make something like that. There is a reason that, along with the usual top-40 juggernauts, some of the biggest touring bands are half old people, like me." This sentiment was recently shared by Simmons' KISS band mate, Paul Stanley, in a separate interview.
This last claim about the biggest touring bands are the half old people, like him, is an interesting one to take a closer look at, because if you review 2014's musical history, it seems to contradict Mr. Simmons' belief that Rock is truly over. The biggest concert tours of this past summer were performed by Simmons' "half old" colleagues, including Aerosmith, Motley Crue, and Def Leppard, who happened to co-headline a 40 date tour with...KISS. And starting in November, KISS will be hosting a residency at The Joint, the concert venue at Las Vegas' Hard Rock Hotel and Casino. So, is Rock really dead? Not if you take a look at how successful all of these concert tours were and for Motley Crue, still seems to be. The Crue are in the midst of performing their "Farewell Tour," which will wrap up in June 2015. Now just to be clear, Motley Crue aren't calling it quits as a band - so they're not falling to the concept that Rock is dead - they are ready to retire from the touring. They say they have every intention of continuing to write, record and release new material.
Classic and Alternative Rock staples AC/DC, Pink Floyd, U2 and the Foo Fighters have all either just released, or are about to release, new albums. So, if Rock is truly dead, wouldn't these artists, who don't need either the money or the notoriety, hang it up?
In fact, Dave Grohl, is doing everything he can to keep Rock in the mainstream, from his highly acclaimed film about the legendary Sound City recording studios, to the release of the Foo Fighters' new album, along with his new TV series, Foo Fighters Sonic Highways, airing on HBO, which spotlights the most musically important cities in the United States and interviews several people, in each city, who helped shape the sounds of those towns.
There's really no denying that Mr. Simmons is right that the music business has certainly changed. Also, accessibility to music is different and more plentiful than it was even 10 years ago. But does it mean that the whole genre of Rock is dead? Not necessarily. It's more gone along for the ride - this ride of change, per se. And perhaps, even with this increased accessibility to hear their music, musicians today may not have the opportunities of over the top fame and fortune as their predecessors, but that doesn't mean that they shouldn't go out there and give it all they got. Because there is still an audience out there, it's large, and it's growing.