Posted by Lando on 20th Jun 2019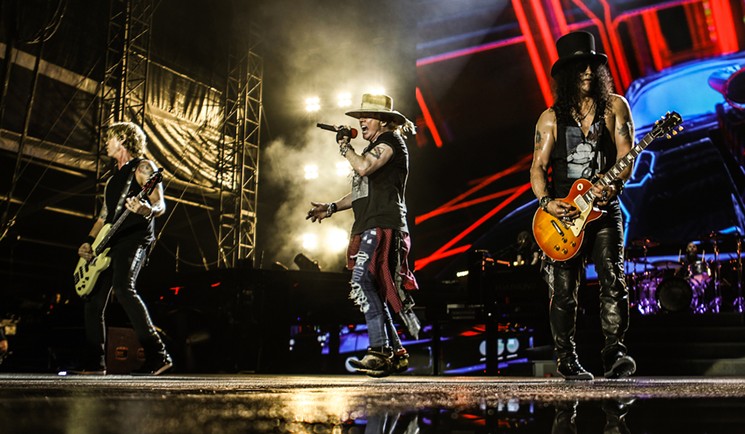 A few weeks ago, I wrote about Guns N' Roses' confirmation of a new album getting underway. Well, that hasn't been postponed, per se, as they never shared recording and/or release dates. However, it looks like it's still a ways off, as the band has confirmed additional shows, for their ongoing "Not In This Lifetime" tour, which began, back in 2016.
While they have been on the road, consistently, since launching the "Not In This Lifetime" tour, GNR haven't yet performed a concert, here in the US, so far, this year. So, ceding to the desires of their US based fans, Guns N' Roses have announced 8 additional dates, to be performed here in the US, beginning at the end of September and wrapping up, with 2 back to back shows, in Las Vegas, in early November. The band is quoted as saying "Guns N' Roses is bringing their outrageously successful Not in This Lifetime Tour back to the U.S this fall – and for the first time in 2019. With fans hungry for more GNR, the band revealed eight new dates across the United States, kicking off Sept. 25 in Charlotte, N.C. The shows include two back-to-back nights on Friday, Nov. 1, and Saturday, Nov. 2, in Las Vegas at the legendary Colosseum at Caesars Palace."
The complete list of dates, for the upcoming US shows, is below:
9/25 – Charlotte, NC @ Spectrum Center
10/1 – Jacksonville, FL @ Vystar Veterans Memorial Arena
10/7 – Wichita, KS @ Intrust Bank Arena
10/15 – Lincoln, NE @ Pinnacle Bank Arena
10/23 – Oklahoma City, OK @ Chesapeake Energey Arena
10/29 – Salt Lake City, UT @ Vivint Smart Home Arena
11/01 – Las Vegas, NV @ Collosseum at Ceasars Palace
11/02 – Las Vegas, NV @ Collosseum at Ceasars Palace
We'd love to hear if you're able to attend any of these concerts. In the meantime, please check out our entire selection of Guns N Roses products.