Posted by Lando on 22nd Sep 2022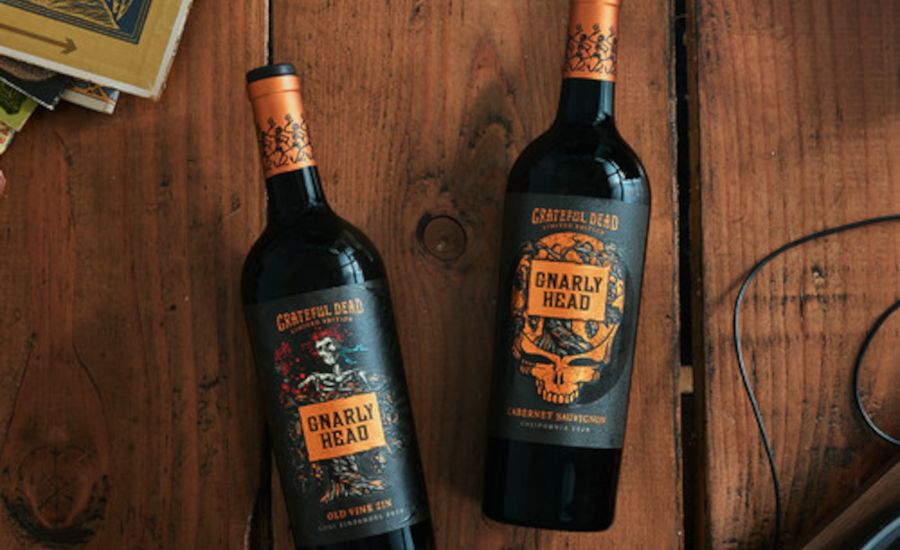 Grateful Dead have partnered up with California winemaker, Gnarly Head, to release 2 new wines with Grateful Dead imagery.
The first is Gnarly Head's Cabernet Sauvignon while the other is the brand's Old Vine Zinfandel. Both are sourced from 35-80 year old vines in Gnarly Head's home base of Lodi, California.
The labels on the bottles pay homage to the legendary rock band, with the Cabernet Sauvignon prominently featuring Grateful Dead's famous lightning bolt logo, while the Old Vine Zinfandel's label spotlights the band's skeleton flowers logo, often referred to as Bertha. Both wines are available in major food and wine retailers this month and will run around $12.00 per bottle.
In a statement about the collaboration, Gnarly Head said "Gnarly Head wines and the music of the Grateful Dead are both rooted in Northern California, and both are expressive, bold and true to their roots—so this partnership is a natural fit. They happen to be fantastic when enjoyed together." Grateful Dead's archivist and legacy manager, David Lemieux, followed that up saying, "You don't just listen to the music of The Dead, you experience it. The music is an expression of a California state of mind that's rich in creativity, connection and community. Gnarly Head wines tap that same passion and energy, and I hope that these fantastic wines inspire fans of the Dead to catch some of those vibes when they pour themselves a glass of Gnarly Head wine and put on their favorite album."
Both the Cabernet Sauvignon and Old Vine Zinfandel are available this month in major food and wine retailers, including Kroeger stores and Total Wine and will run around $12.00 per bottle.