Posted by Lando on 11th Feb 2015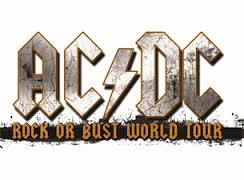 2014 was a busy and hectic year for AC/DC. First they recorded and released a new album called Rock or Bust. Second, prior to the release of that album, founding AC/DC band member, Malcolm Young, retired from the group due to deteriorating health. Then to top it all off, the band had to replace their drummer, Phil Rudd, because of legal issues he has encountered in New Zealand.
However, in spite of the troubles the band has had over the last 12 months, they have not ceased from rocketing forward. They performed at the most recent Grammy awards and have planned an upcoming European tour, for this year. In addition, some internal staffing changes have been made. Chris Slade is poised to take over for Phil Rudd at the drum kit, while Stevie Young has replaced Malcolm Young, on rhythm guitar.
And this week (February 9, 2015), the band announced that they're going to perform a tour of North America, which will be their first here in a number of years. It will fall on the heels of the above referenced upcoming late spring/early summer tour of Europe.
Below is a list of the cities and dates that AC/DC will be performing in North America, which will consist of shows in both the US and Canada. The venues haven't yet been announced, but if that changes, I'll post an update about where exactly these concerts will be held.
8/22 – Foxborough, MA
8/26 – E. Rutherford, NJ
8/28 – Quebec City, Ontario
8/31 – Montreal, Quebec
9/3 – Ottawa, Ontario
9/5 – Moncton, New Brunswick
9/8 – Detroit, MI
9/10 – Toronto, Ontario
9/15 – Chicago, IL
9/20 – Edmonton, Alberta
9/22 – Vancouver, British Columbia
9/25 – San Francisco, CA
9/28 – Los Angeles, CA