Posted by Lando on 18th Oct 2016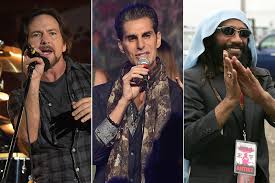 In case you haven't heard yet, today (October 18, 2016) the official list of nominees for the 2017 Rock and Roll Hall of Fame induction was announced. The list includes a number of newly eligible classic and alternative rock bands, hip-hop artists, and pop music stars, along with some carry overs of nominees from years past that haven't been inducted quite yet. The full list of nominees are:
JANE'S ADDICTION
PEARL JAM
TUPAC SHAKUR
JANET JACKSON
YES
ELECTRIC LIGHT ORCHESTRA (ELO)
THE CARS
KRAFTWERK
THE ZOMBIES
BAD BRAINS
CHAKA KHAN
MC5
JOAN BAEZ
J. GEILS BAND
STEPPENWOLF
JOE TEX
CHIC
Artists and the public can vote until December 6 at RollingStone.com. To be eligible, each artist nominated had to have a single released prior in 1991 or prior.