Posted by Lando on 2nd Apr 2014
So, over the course of the last couple of weeks Van Halen have had a couple of different anniversaries. One of these is to honor, and the other - well that is up to the individual, depending on who you prefer as lead singer. I'll start with the first one: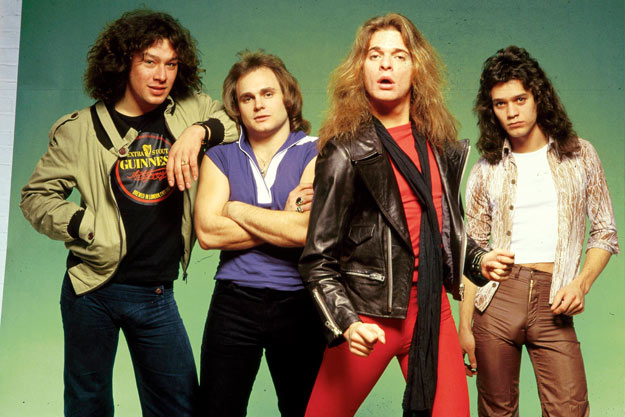 1. March 23, 2014 - this date marks the 35th anniversary of the release of Van Halen II. The album, which was recorded in the last 3 weeks of 1978, hit the record store shelves on March 23, 1979. Although the band was being recognized by their fans as a force to be reckoned with, the music industry didn't view them with quite as much tenacity.
Following up on the release of their first album, aptly named Van Halen, in early 1978, the band found themselves at the end of that year, coming home from a year long world tour, a hit record, and somehow $2 million in debt to their record label, Warner Brothers, who required a follow up to Van Halen's debut, and soon. The guys went into the studio with 3 weeks left in 1978 and although they had a bunch of songs from the demo that got them signed with Warner Brothers, originally, they wound up only using about 3 songs from that demo and one cover song "You're No Good."
The rest of the album was dedicated to original material, from which came the hit "Dance The Night Away." Speaking about the production process of recording Van Halen II, singer (at the time), David Lee Roth said "I remember it being extreme labor. I remember it being a lot of hard work compressed into a short period of time...
This time, we decided to really take it to the edge and go in totally unprepared, and this way we'd get a totally spontaneous sound. It's like bang, stick it on the plastic, next please — that's the Van Halen attitude and lifestyle." After the album was released, DLR went on to say "The '80s are coming and we're going to be the soundtrack.
We're here to blow the bugles and jump on the horns and whistle it all in and usher it down the road and round the stretch and across the finish line." Call it extreme confidence, cockiness, or just fortuitous foreshadowing, when it came to the hard rock sound, Mr. Roth couldn't have been more correct.
And now for the second milestone anniversary: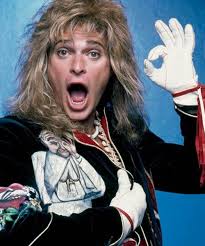 2. April 1, 2014: 29 years ago, David Lee Roth calls it quits as the singer of Van Halen. Although, many prayed this was just a really nasty April Fool's prank, it was in fact, quite the opposite. After releasing an uber-successful EP on December 31, 1984 (I remember when MTV kept teasing everybody to stay up until midnight on December 31, 1984-January 1, 1985 for David Lee Roth's World Premier Video - it was for his cover of California Girls - and I stayed up to watch it), Mr. Roth said good-bye to his former band mates, after a 7 year run of immensely successful albums and sold out world tours, along with their first chart topping single, "Jump," off their most recent release, 1984.
David did get his own record deal with his former band's label, Warner Brothers, and released 2 platinum selling albums on his own between 1986 - 1988. Van Halen didn't let Diamond Dave's departure stop them - they brought on Sammy Hagar who helped catapult the band to their first #1 album, 1986's "5150." Sammy departed VH in 1996 and DLR came back to record a couple of tracks with the band for their Greatest Hits release.
He came back, again, for a short time in 2001 and then for good in 2007. The band, with this original lineup, have since toured and in 2012 released their first album, in almost 30 years called "A Different Kind of Truth." They are reported to be working on a follow up to that album now.