Posted by Lando on 6th Jun 2014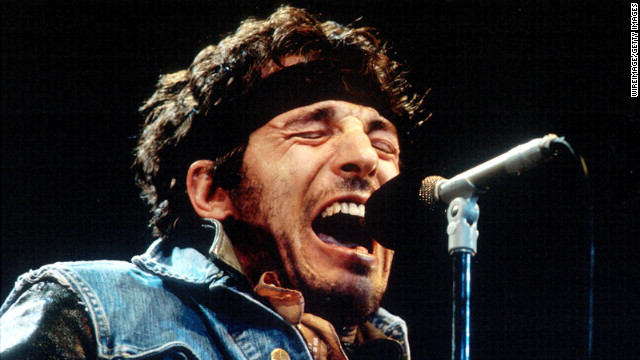 This week, June 4, to be precise, marked the 30th anniversary of Bruce Springsteen comeback album, "Born in the USA." And what a comeback it was. From keeping a relatively low profile after his "The River" tour concluded in September of 1981 followed by the not so well known acoustic release, 1982's "Nebraska," "Born in the USA" wasn't just a comeback for Bruce and the E Street Band - it was a juggernaut that catapulted the artist from successful musician to one of the most popular superstars of the mid-1980s. Prince and Michael Jackson were just slightly more popular at the time.
"Born in the U.S.A." took 2 years to write and release. 86 songs were originally recorded and were eventually cut down to the 12 that are on the record, chosen because of the way they fit together, based on their social economic points of view. The marketing of "Born in the USA" was handled by the band's manager, Jon Landau, who worked closely with Columbia Records, the label which released the album. They decided to take on a similar approach to marketing this album that CBS Records undertook in releasing Michael Jackson's "Thriller:" release a new song to radio every three months for two years. The first of these songs was "Dancing in the Dark," released on May 4, 1984 which became an instant radio and MTV hit, with a video featuring a then unknown actress named Courtney Cox who, as you may recall, was pulled up onto the stage to dance with The Boss. This video was filmed in St. Paul, MN, at an actual Springsteen concert, the first show of the tour held in support of "Born in the U.S.A.." Within a week of this song going to radio & MTV, "Born in the U.S.A." became the #1 album in America.
However, as with many great pieces of art, "Born in the U.S.A." also took center stage of political controversy. Apparently, without seeking permission from Mr. Springsteen, Ronald Reagan, in his 1984 campaign for his second presidential term, used Springsteen's name and referenced his music as being the quintessential description of what being an American was all about. Reagan's speechwriters had read a review of Springsteen's music by George Will, who had said in his nationally syndicated column, "I have not got a clue about Springsteen's politics. But flags get waved at his concerts while he sings songs about hard times. He is no whiner, and the recitation of closed factories and other problems always seems punctuated by a grand, cheerful affirmation: 'Born in the U.S.A.!'" From that, Regan, who had probably never listened to any of Springsteen's music came out and said "America's future rests in a thousand dreams inside your hearts. It rests in the message of hope in songs so many young Americans admire: New Jersey's own Bruce Springsteen. And helping you make those dreams come true is what this job of mine is all about." Bruce quickly retorted a couple of days later at a concert in Pittsburgh in which he said, "The President was mentioning my name the other day, and I kinda got to wondering what his favorite album must've been. I don't think it was the 'Nebraska' album. I don't think he's been listening to this one." He followed that up by performing 'Johnny 99,' his song regarding a laid-off auto worker who gets drunk and goes on a crime spree.
Reagan's opponent, at the time, Democratic Presidential nominee Walter Mondale, jumped on the Springsteen bandwagon as well, by declaring that his Vice President nominee had Bruce's endorsement. They didn't and Mondale was forced to retract his claim.
I very well remember the summer of 1984 and regularly seeing the video for "Dancing in the Dark" on MTV, while spending time at my grandparents' house in Northern California. I also recall listening to and loving all of the other singles which received tons of airplay, including "Cover Me," "I'm on Fire," and of course the album's title song, "Born in the U.S.A.." I remember the summer of 1985 and, while visiting my grandparents again, watching the music video for "Glory Days" as I did a year before with "Dancing in the Dark."
"Born in the U.S.A." went on to sell 30 million copies worldwide. All seven of its singles reached the Top 10 and within 2 years Mr. Bruce Springsteen went from well known musician playing theaters to being an arena performing superstar.
And with that, I will conclude with Happy Birthday "Born in the U.S.A.!" I can't imagine the 1980s without you.