Posted by Lando on 5th Apr 2014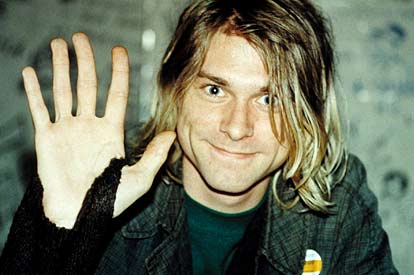 Exactly 20 years ago today, April 5, 1994, Nirvana's singer, Kurt Cobain killed himself, in his Seattle home, from a self inflicted gun shot wound. He was discovered, 3 days later, by an electrician who was at the rock star's house to install some security lighting. He had apparently entered the premises and found the rocker's body on the ground next to a shot gun and a note. Kurt, at the time, was the latest to enter the "27 Club," the group of musicians who had died from a variety of causes, at the age of 27.
While the world was shocked by the announcement of Cobain's death, it was public knowledge that Kurt was struggling with fame and fortune along with a heroin addiction. He was a true dichotomy - he was a rock star and one of the few that reached such a high pinnacle of success, but it was success he never really wanted. He defined the phrase "tortured artist." In the note found next to his corpse, it read "I haven't felt the excitement for so many years,...I feel guilty beyond words about these things…When we are backstage and the lights go out and the manic roar of the crowd begins, it doesn't affect me…The fact is, I can't fool you, any of you. It simply isn't fair to you or to me…The worst crime I can think of would be to (trick) people by faking it and pretending as if I were having 100% fun."
Kurt's death came only a few months after the release of Nirvana's latest album, at the time, "In Utero." In addition, Kurt had just become a father after his wife, Hole singer Courtney Love, gave birth to their daughter Francis Bean. While on a flight back to Seattle, shortly before Kurt committed suicide, Guns 'N Roses' Duff McKagan was sitting next to Kurt and said that he seemed really down. During the entire plane ride, they drank, but they never talked about Kurt's problems with addiction or what had brought him to the place he was at, emotionally.
Alice in Chains' singer, Layne Staley, a friend of Kurt's, and whom Kurt very much respected, had run into each other one evening, and Kurt gave Layne a ride to a friend's house. Layne said this about Kurt, "the whole way there, which was about a fifteen minute drive, he talked about his daughter. For such a quiet person, he was so excited about having a child, he really loved that little girl.Then about a month later I saw on the news that he was dead." Layne, while not a close friend of Kurt's, was devastated by the news of Cobain's death. Ironically, Layne Staley died exactly 8 years later, to the day, from a drug overdose.
While subsequent albums continued to be released, from Grunge bands that had hit it big, at the same time that Nirvana did, Kurt's death marked the true beginning of the end for Grunge. By 1994, public interest in the loud downtrodden music was beginning to dissipate, and Kurt's death signaled the end was near. Nirvana had become the spokes model of the alternative rock movement and Kurt Cobain its leader. Without him, and public sentiment starting to sway, the fate of Grunge was imminent.
I can't say, personally, I was too surprised by Kurt Cobain's death. Yeah, I didn't expect it when it happened, but, to be honest, I really wasn't a fan of the band, and I really didn't think much of Cobain. I've spoken with many successful musicians, and they felt that Nirvana was showered with much more media attention then they really deserved. It's not out of jealousy that they say this, but they, and I, believed, and continue to believe, that there were simply better bands, musically, that came out of Seattle's Grunge scene, including Alice in Chains and Soundgarden, that didn't get the respect from the public or media, because it was all being directed onto Nirvana and Kurt Cobain. In addition, many young people, during the early 1990s, saw Cobain as the spokes person of their generation. I certainly never saw him that way, for a multiple of reasons. I do, in fact, though, remember where I was when I heard the news of Cobain's death. I was sitting at the breakfast table at my parent's house watching MTV when Kurt Loder, who hosted the MTV News came on, interrupting the programming, to advise everybody about Kurt's death. While it wasn't ruled a suicide until April 9, after the Seattle Medical Examiner had a chance to do an autopsy, I believe, Mr. Loder did say suicide was suspected.
While deeply saddened by his death, those who were closest to Kurt have moved on with their lives. Dave Grohl, Nirvana's drummer, went on to create and become incredibly successful with his current band, Foo Fighters, while Nirvana's bass player, Krist Novoselic, has been involved with other bands as well as politically, creating the political action committee JAMPAC (Joint Artists and Musicians Political Action Committee). Kurt's wife, Courtney Love, became successful in her own right, first with her band Hole and then her acting career starring in some big scale movies. Francis Bean, Kurt's daughter with Courtney, is now a successful model in Los Angeles.
Over the course of the last few weeks, new photos taken of Kurt at the time of his death have emerged.The Seattle police have reviewed the case because of its 20th anniversary and it still being considered very high profile. It is a cold case, because of its age, and as of now, there are no reasons to expect that Cobain's death was anything but a suicide, although, many conspiracy theorists argue otherwise. These include Richard Lee, a 50-year-old Seattle man who has hosted a public access show actually titled "Kurt Cobain Was Murdered." He is suing the Seattle Police Department for being "uncooperative, dilatory, and non-compliant with his requests for records and information." Curious how that will turn out.